GENERAL INFORMATION and FAQs
BE AWARE OF RESELLERS
We can not guarantee that you will be able to gain entry with tickets purchased through Third-party resellers (TicketsOnSale, VividSeats, StubHub, etc.). Be sure to purchase authentic tickets directly from Zanies.com or from the Zanies Box Office!
ALL SHOWS ARE SMOKE FREE!
ALL ACTS, PRICES AND SHOW TIMES ARE SUBJECT TO CHANGE WITHOUT NOTICE
*** CELL PHONE POLICY – EFFECTIVE January 22, 2019 ***
Zanies is a phone-free venue through a partnership with Yondr. Use of cellphones, smart watches, smart accessories, cameras or recording devices will not be permitted in the performance space. At all performances, guests will secure their phones and smart watches in Yondr cases, which will be opened at the end of the event. Guests will maintain possession of their Yondr case at all times, and can access their phones throughout the show at designated Phone Use Areas in the venue. Guests are encouraged to print their tickets in advance to ensure a smooth entry process. For more information on how Yondr works, click here.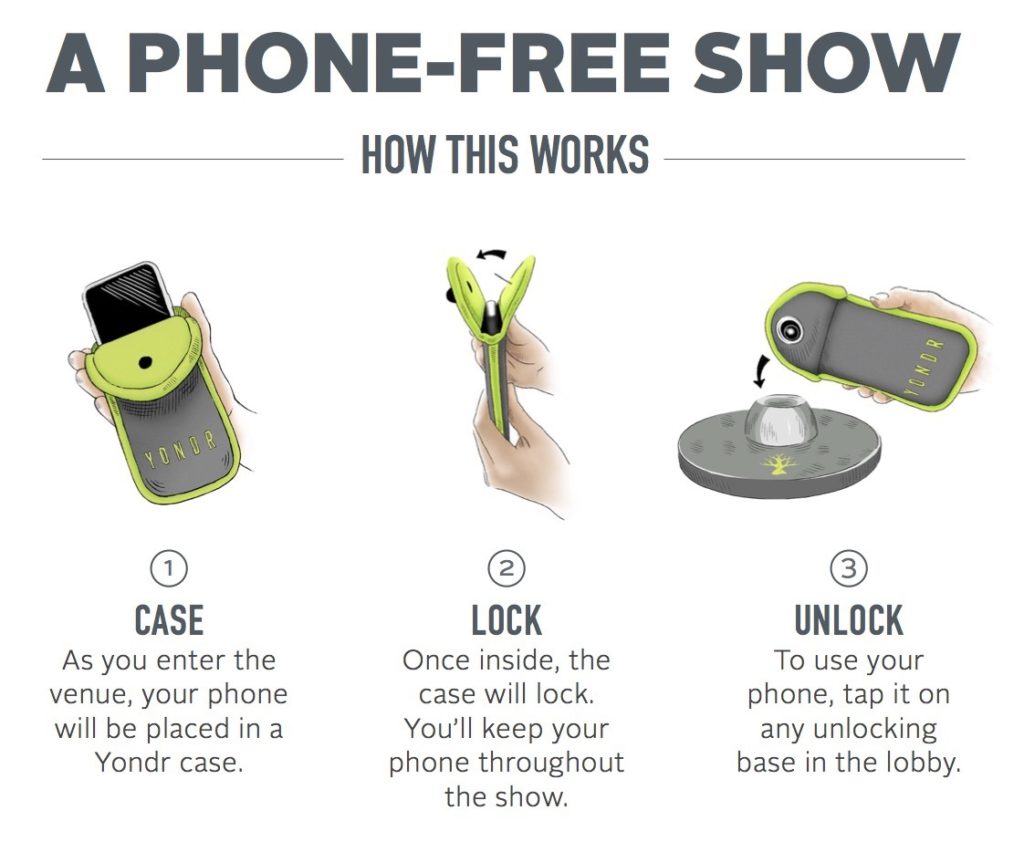 GENERAL SHOW TIMES
are listed below but do change frequently by artist and day of the week. Doors Open from 30 minutes to an hour and a half prior to a show making the Door Time contingent upon and therefore listed with the exact Show Time.
Always
View CALENDAR
to check the specific date for Exact Show and Door Times.
| DAY | GENERAL SHOW TIMES |
| --- | --- |
| Monday | View Calendar |
| Tuesday | View Calendar |
| Wednesday | 7:30pm |
| Thursday | 7:30pm |
| Friday | 7:30 & 9:45pm |
| Saturday | 7:00 & 9:15pm & sometimes 11:30pm |
| Sunday | 7:30pm |
TICKETS:
-Tickets are purchased for a specific show, performer, date & time.
-All ticket purchases are NON-REFUNDABLE and NON-TRANSFERABLE to any other show, date or time.
-Before purchasing tickets, please ensure you can attend the specific show, date & time.
-ALL TICKET SALES ARE FINAL
-All tickets are assessed a Service Fee that is added to the base ticket price whether purchased via phone, websiite or in person.
-Many shows SELL OUT in advance therefore we do encourage you to purchase your tickets in advance. Advance ticket purchases guarantee you have a seat(s) but not specific seat/seats together (see SEATING below).
PAYMENT TYPES ACCEPTED for Tickets, Food & Beverage:
Cash, American Express, Discover, MasterCard and Visa (Credit and Debit Cards).
PURCHASE TICKETS 3 ways:
1. ONLINE at Zanies.com with credit or debit cards
2. PHONE with credit or debit cards and Gift Certificates by calling 615.269.0221 (see Standard Box Office Hours below)
3. IN PERSON (see Standard Box Office Hours below)
| Standard Box Office Hours | |
| --- | --- |
| DAY | TIMES |
| Monday | 10:00am to 6:00pm |
| Tuesday | 10:00am to 6:00pm |
| Wednesday | 10:00am to 9:00pm |
| Thursday | 10:00am to 9:00pm |
| Friday | 9:00am to 11:00pm |
| Saturday | 10:00am to 10:30pm |
| Sunday | 1:00pm to 9:00pm |
EMAIL ORDER CONFIRMATION – DOWNLOAD TICKETS -OBTAIN BARCODES:
For Every Ticket Purchase Transaction you will receive TWO EMAILS:
1. Payment Receipt from our Internet Payment Gateway and
2. 
Order Confirmation from Laughstub.com
 – this email shows the total number of tickets as well as a DOWNLOAD TICKETS button. Ticket Confirmation BARCODES = FAST ENTRY and SEATING. Please Note that ONE Barcode is issued for ALL tickets purchased on this order. Simply click DOWNLOAD TICKETS link that open another tab or browser window then choose option below:
1. VIEW BARCODE on a MOBILE DEVICE: if you can VIEW IT on your phone then ZANIES can SCAN IT. No need to print a paper copy. GO GREEN with Zanies using our new Mobile Device Barcode Checkin. NOTE: Please ZOOM IN on either the QT (square) Code or the regular Barcode to just about fill the screen for the best & fastest scanning, entry and seating we can possibly provide.
OR
2. PRINT BARCODE PAPER COPY: in the new tab or window look in the upper right hand corner of the ticket for CLICK HERE TO PRINT YOUR TICKETS. If by chance it does not print then your device or system might require an updated version of Adobe Flash. You can simply print via your browser by clicking File then Print.
If you cannot obtain a barcode by either of the above options, one may be obtained upon arrival at the BOX OFFICE WINDOW before entering the show room for seating.
SEATING:
-All seating is first come first served therefore we cannot guarantee seating together for tickets purchased.
-We recommend arriving at least 45 minutes to an hour prior to show time for better seat selection.
NOTE: groups need to be especially aware of this. If your group wishes to sit together someone in the party needs to arrive early and know the names in which your entire group has purchased tickets under. Groups do NOT have to purchase tickets together.
HANDICAPPED SEATING: When purchasing tickets please let us know your handicapped status for seating accommodations. If your tickets were purchased online, please call our Box Office at (615) 269-0221 in advance to make arrangements.
MINIMUM AGE REQUIREMENTS: 18 to Laugh and 21 to Drink.
Everyone must be 18 years of age or older with a valid photo I.D. for admittance and 21 to consume alcohol. Please be prepared to present an "Acceptable form of identification" meaning:
(A) A state-issued driver license;
(B) A state-issued identification card;
(C) A valid passport; or
(D) A valid military identification
NOTE: College IDs are NOT an acceptable form of I.D.
It is the Law!
GENERAL RULES:
-Two(2) item minimum purchase requirement (must include one food item) PER PERSON inside the club. The minimum can be any food/beverage items and/or combination thereof. Alcohol does not have to be purchased.
-No food or beverages may be brought in or out of Zanies.
-Out of respect to the performers(s) on stage and everyone seated around you
ALL of the following are STRICTLY PROHIBITED during shows:
1. Flash Photography
2. Audio and/or Video Recording
3. Mobile Devices including but not limited to Calls and Texts
-Zanies reserves the right to refuse service to any individual.
ALL SHOWS ARE SMOKE FREE: As of Friday, September 7, 2007 in accordance with Tennessee State Law ALL SHOWS are SMOKE-FREE. Smoking is permitted outside and patrons may exit & re-enter the showroom.
PARKING is always FREE available in our parking lot behind Zanies, in the grassy areas around the house located at 809 South Douglas Avenue just behind the Dollar General Store, and on all adjacent streets. Please consult the Security Guard for all parking questions.
PLEASE TAKE NOTE the following DO have NO PARKING SIGNS POSTED on their premises and will not hesitate to have YOUR VEHICLE TOWED:
1. Daily's Market/Shell Gas Station (next to Zanies),
2. Douglas Corner Cafe (directly across 8th Avenue from Zanies) and
3. Both Townhouse/Condo Complexes on each side of Douglas Avenue directly behind Zanies.
DRESS CODE: Yes, please wear clothes.